Local Artists Team Up with Peruvian Water Reservoir Grant
August 11, 2021 | Paige Dean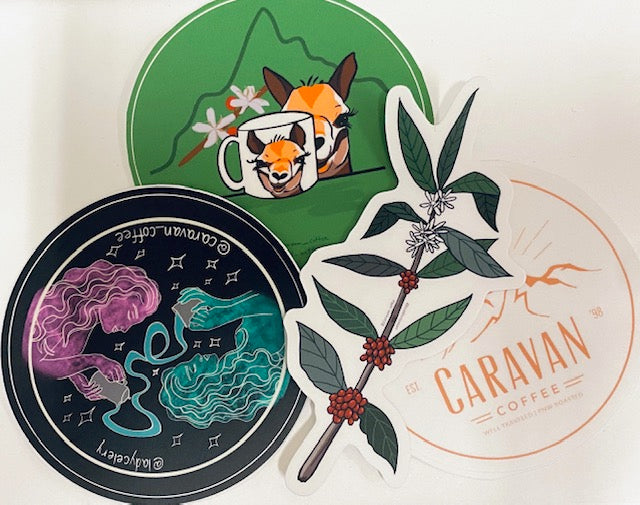 Meet the Artists!
Emily
My inspiration for the piece was inspired by the natural beauty of Peru! Peru is famously known for their beautiful peaks and adorable llamas, I think they both should be celebrated in any way. I also included the beautiful Peruvian coffee flower, from seed to cup the Peruvian coffee plant is so something to be adored! 

I am so happy to be a part of this wonderful cause with a great company! 

 I am a queer artist born and raised in Oregon that loves to create and celebrate beautiful things. I enjoy using as many different media types in my art as I can, including clay, paint, drawing, digital art, and buttons! You can check me out on Instagram @Lil_batface and my new etsy shop Lilbatface. I am so thankful to be working alongside Caravan coffee and the other incredible artists with this great project! 
Julia
 For my stickers, I was really inspired by these women who want to see to it that women in the coffee industry are fairly supported for their work. I wanted to celebrate the strength and power that comes from uplifting each other and unifying for a good cause. At the same time, I wanted to embrace femininity and coffee itself. I decided to make one sticker inspired by the colorful clothes being worn by the Peruvian women who originated the Cafe Femenino concept, one that captured the essence of women lifting each other up, and two others that dealt with the concept of growth, flourishing, and the coffee cycle. 

 I'm an artist, writer, and illustrator who moved from New Mexico to Newberg in 2019. Since living here, I've primarily worked as a barista but have also been involved with a handful of film projects. I mostly enjoy painting with watercolors, but have also been dabbling in digital art recently. I'm very excited to have been able to create something for such a wonderful cause and support communities all over the world! 

 
Heather
I have a passion for creating small original watercolor paintings that you can wear and display. Paintings that speak to you. Paintings you never even knew you needed until you saw them. I want to make designs that people who don't even know me see and get the feeling I designed it just for them. I have specialized in original designs as well as custom orders, which has made my pieces the perfect gift for loved ones. Lastly - but really First and Foremost, I am a wife to a wonderful husband and mother to three dear children, living in beautiful Oregon wine country.