Featured, News and Upcoming Events
A Roaster at Origin
April 04, 2016 | Alex Koeppen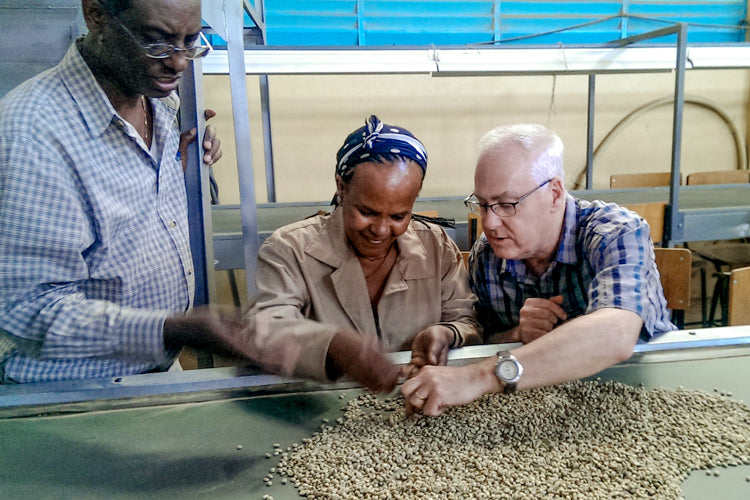 Pineapple. It is such a common fruit that you could walk into almost any grocery store in America and be overwhelmed by the selection and preparations of pineapples. Whole, sliced, chunks, canned, you name it. We are all very familiar with pineapples but how well do you "know" a pineapple?
You can look at pictures, get the latest stats on importing pineapples and even do a number of lectures on such a topic. But to "know" a pineapple, one needs to bite into one or, even better, go to the actual plantation. Only when you can talk to the farmers and taste pineapple from the origin, will truly "know" a pineapple.
You might be asking, "Where are you going with this?"
It's easy to pontificate about coffee's many different attributes and feel like you have a full understanding of it. Until you have been present locally with the coffee farmers and walked on the farm yourself, you don't really "know" coffee.
To see the trees, to touch the freshly dried seeds and to smell the unique fragrance is nothing less than inspiring. But you truly begin to "know" the coffee when you are standing side by side, cupping coffee with the men and women who grow your coffee and who share in your passion for it.
So last year when Pete, Caravan's Proprietor, suggested a 3 week trip to origin, I was more than thrilled. A trip like this would not only benefit Caravan Coffee or me personally, as Caravan's roastmaster, but it also benefits you, our customers, by giving you a chance to "know" your coffee.
When you travel to origin, the coffee is no longer simply a commodity; it becomes an extension of the real people who work the soil, tend the trees and harvest the coffee. No longer is it just a co-op in Kochere, Ethiopia, but it's Miriam, living with his sister, passionately working just 2 minutes from the Kochere dry mill on his 2-acre plot.
When I was there I was even able to see our broker, Dominion Coffee, at work and caring for the people they buy from. People like Tsehey, a double amputee, who was provided with prosthetic legs which allow her to go to school and get an education. She beams with joy! Knowing their stories and other personal narratives bring a new depth and perspective to the coffee we sip.
Even back at Caravan, when I am able to visualize those men and women, the daily tasks seem purposeful and energized.
It is an amazing experience to find that your pursuit of excellence in roasting is mirrored in extremely inspired farmers who feel the same connection to their own product as we do in roasting it.  Quality focused farmers are looking for someone they can connect with just as much as roasters are looking for great coffees and their farmers to connect with.
When those connections happen, quality suddenly goes to a higher level. I was able to partake in new crops of Kochere, Abaya, Yirgacheffe… probably over 30 different coffees in the land they were grown and with the people who grew it. You can be sure the coffee you get back at Caravan Coffee will be both very personal and very delicious.
Coffee is not coffee without people connecting over it, and to truly "know" coffee is to know its story from beginning to end. This is either going to be in the form of a shared cup or an awareness of all the crafting hands involved in its journey to your table.
-Paul Allen
The post A Roaster at Origin appeared first on Caravan Coffee.